How often do you think that you will walk past a psychopath in your usual life. Yes we all see that they make for good scripts in big Hollywood films. They might not be regular criminals or match up the real Hollywood standards for a cinematic asshole but they are more like regular people walking on the streets. But that does not make them any less dangerous then how they are perceived in stories.
They can be seen as extreme ends on the other end of the scale. The scale being the ability of these humans to connect to their emotions. That means that your inability to feel other people's emotions takes away from your ability to feel any form of emapthy. So for psychopaths, that eliminates any form of guilt associated with their actions. But don't you think that psychopaths are any less dangerous despite their charm and ability to fit in the regular social set-up.
Here are some of the signs that will help you identify a psychopath ( and even a sociopath in some cases ) :
Callousness and Lack Of Empathy
Shallow Emotions and cold interpersonal responses despite being highly social
Asking a lot of irrelevant questions in a view to pretend that they understand a lot of things
A Grandiose sense of self worth :  A gross belief system which makes them feel that they are superior humans.
Poor behaviourial control and lack of consideration for others
Low regard for the social morals accepted by everyone else
Lack Of Realistic, Long Term Goals  ( often living a nomadic existence with lack of direction in their lives )
Failure to accept responsibility for their actions
Fail to honour obligations and commitments
Inability to keep real genuine friends
Gilberish Charm
Ability to calm down their anti-social impulses
Do not respond to punishments or dissapprovals
A parasitic lifestyle where their hosts cannot trust their intentions or loyalty
Tips To Deal With A Psychopath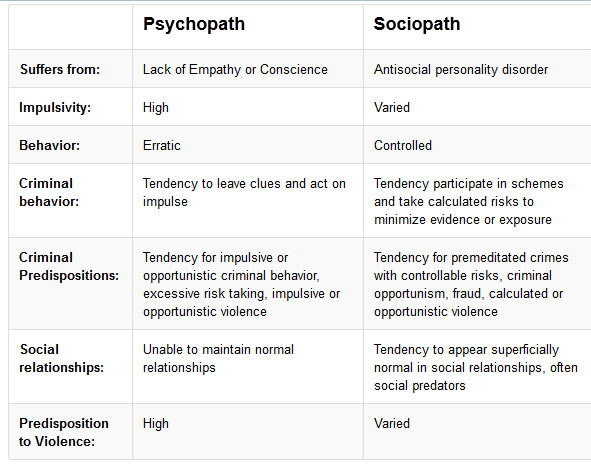 Now if you guys have been reading the article right then you can easily spot a psychopath from miles away ( and when you do please run away !! ). Well haha jokes apart, there is no fun being around people with anti-social personality disorders. The negative impacts of being around this kind of people can range from irritability to getting looked down for your achievements to getting emotionally drained. People of this kind show signs at as early as at the age of 13. There is no medically proven procedure to cure people with such disorders. And more importantly people with these tendencies see nothing wrong with their behavior.
Differences Between Psychopaths and Sociopaths
Psychopaths are naturally wired as a biological and genetic condition while sociopaths are conditioned by environmental factors such as abuse at an early age and negative belief systems
Psychopaths feel no guilt what so ever for their actions on the other hand sociopaths have a normal temperament and feel guilty for their actions.
Sociopaths tend to be less dangerous by middle age and Psychopaths are dangerous throughout their lives.
Sociopaths tend to be more vulnerable and can feel other people's emotions while psychopaths use cognitive empathy to understand other people's emotions ( but they cannot feel them internally).
Psychopaths make up for 1% of the human population while sociopaths make for 4% of the human count.
What makes psychopaths more dangerous than sociopaths is that psychopaths do not have a conscience.
The more the information you observe, the more you educate yourself towards  these kinds of disorders the more less likely you are going to be manipulated by these kind of people. It is like when light enters, there is no space for darkness. The most effective technique however is keeping distance from people with suspicious behaviors and with a seemingly faulty past. Another solution in case you have been abused by such an antisocial personality is to educate as many people in your circle as you can, this way you would probably scare away any similar suspicious person for the good. For more of such kind of articles keep coming back to amazing geek world !!