Baby Groot can be seen as the most adorable characters in the Guardians Of The Galaxy franchise. As the second part of the sci fi Marvel outing concluded we already had the character rejuvenate into a new form. Although director James Gunn admitted that baby groot is a completely new being and had nothing to do with in the Guardians of the Galaxy part one. Now cut to Avengers Infinity Wars you will see a whole lot of action and drama with best of the best fighting Thanos. Now this movie is not just about the Avengers it is also about Guardians Of The Galaxy. Now as the first look stills are out we will have a teenager Groot in the movie. It would be interesting to see the character development of this new Groot and how help plays a role in fight against Thanos.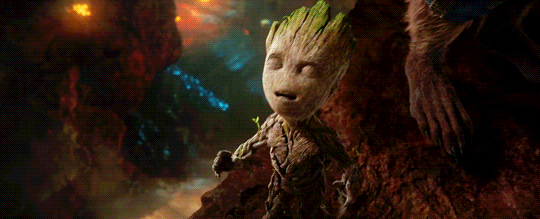 The audience can expect him to play more of an undercover role instead of being the main characters. You have Iron Man, Thor, Black Widow, Captain America and Captain Marvel. Apart from the Guardians, it would also be interesting to see Groot gel up with other characters and maybe even form a relationship with them after a meeting or two. We can say that we have too many characters in movies and it won't be easy to focus on just one.
But just like every other movie Groot will also have it's own moments. We can express his role as a live-action format in the form of these beautiful GIFS.
Did you like our take about Marvel confirming and placing baby Groot in the Avengers Infinity Wars. He has a great role to play in future movies and we hope Marvel does not mistreat our character like the second movie. What do you think ?? Let us know in the comments section below!