The Marrvel and DC studio people have the toughest job on their plate. And the job is to get the best movie castings right. The reason why this job is the toughest in the world because the comic book characters are to be executed into movies and there are a lot of variables involved in the equation. But sometimes the actors are just born to play the role they get into. Here is a list of the 8  Comic Book Movie Actors Who Were Casted Just Perfectly Casted For Their Roles
Josh Brolin – Thanos and Cable
Josh Brolin has proved himself to be th trumpcard for Marvel. he plays the voice and impersonation to the big baddie Thanos s we have see in the cameos.  He also plays the role of Cable which looks like a worthy first look for Deadpool 2.
Ryan Reynolds – Green Lantern and Deadpool
Ryan Reynolds without a doubt was born to play Deadpool. It is surprising although to see a character which spoofed X-Men films became the highest grossing X Men solo movie ! he also played Green Lantern in another DC movie which unfortunately tanked at the box office. Besides Reynolds we cannot even imagine someone playing Deadpool !
Ben Affleck – Batman and Daredevil
You jus have to agree with us when we say that Ben Affleck is Batman  !! He is touted as the best impersonation of the Bat Of Gotham atleast in the modern times. He makes a pitch perfect tone in the roles in which he is casted. Ben Affleck is the only contender who makes Batman so beievable.
J.K. Simmons – Jonah Jameson and Commissioner Gordon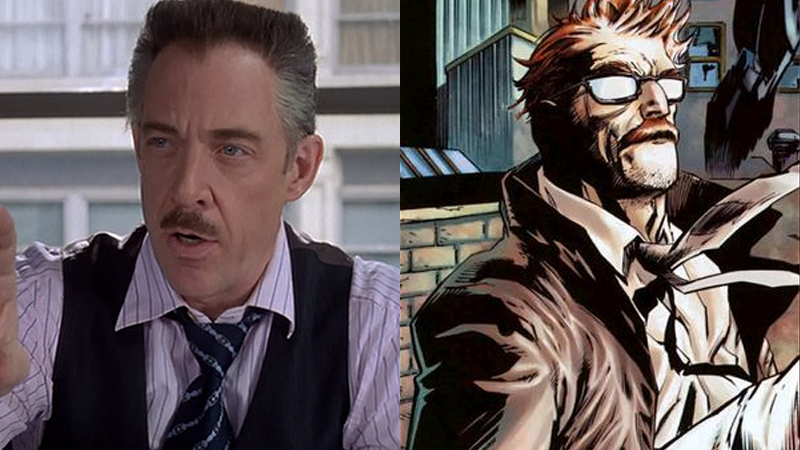 The role played by J.K Simmosn for J Jonnah Jameson was executed to such perfection that we cannot imagine anyone else playing boss to Peter Parker besides him. He is also set to play the role of Comissioner Gordon in Justice League. He was tje one who infused the much needed humour quotient in the movies.
Chris Evans – Human Torch And Captain America

Marvel still follows by their oath of never having miscasted. Chris Evans previously played the role of the aggressive Human Torch in Fantastic Four. Now he finally plays the role of Captain America with great dignity and loyalty to it's comic book origins. Chris Evans was without a doubt a great decision for perfect casting.
Michael B Jordan – Human Torch and Killmonger.

Marvel seems to be going by the rule of repeating their great actors for different character castings. Michael B Jordan also proves to be a perfect choice for the role of Killmonger in Black Panther. Besides the movie has set the audience expectations soaring very high !
Michelle Pfeiffer – The Wasp and Catwoman
There is no one who comes even close to portraying Catwoman as accurately as Michelle Pfeiffer. She has also played the role of he original Wasp in the Antman. We are sure that other characters don't come close to Michelle and role is not likely to be repeated in comic book movie hostory !
Michael Keaton – Batman & The Vulture
Michael Keaton is a guy who never lets down the comic book fans atleast. Earlier playing Batman to near perfection, he has just nailed his role as the Vulture in the recent Marvel film – Spider man Homecoming. He sure is a worthy actor, whether you cast him for a negative or a posotive role, he brings the best out of comic books itself !
For more amazing pieces from the world of entertainment, technology and comic books, keep coming back to amazing gek world. Also be sure to hit the subscribe button and leave your thoughts in the comments section below !