With Steppenwolf stepping down the lands of Themyscira, DCEU has dropped a full length Justice League trailer happening to be one of the best surprises of Comic Con apart from Thor: Ragnarok from its counterpart. The trailer looked promising giving a glimpse of all our heroes united towards saving the earth from apocalypse arriving and upcoming alien invasion. You can watch the spell bounding DC team in action in the Comic Con Sneak Peak for Justice League !!
It looks like the makers have learnt from their previous mistakes considering trailer planning, eye catching screenplay and direction. With the colossal success of Wonder Woman, DCEU has raised its bars and they look more concerned to match upto the expectations.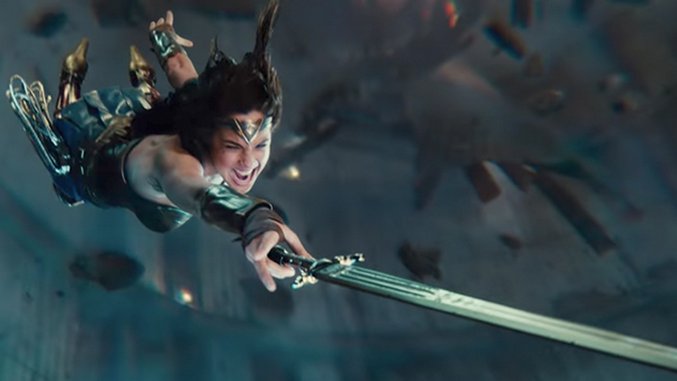 To clarify, Steppenwolf is one among the new Gods in DC universe. He is the uncle of Darkseid and who happens to follow his nephew's commands. The first film of the Justice League franchise is invariably an establishment of what if going to happen next, an even darker era in this world. So we may expect arrival of the mighty Darkseid in the next film, or if its too early, then the third part.
It begins with Wonder Woman landing in her signature style to cope up with goons in what appears to be a 'world without hope'. We see the Cyborg, Flash and Batman struggling and Aquaman dealing the situation with its irresistible charm (appreciate Jason Momoa for bringing that typical charm and self-obsession in the character).
Not just this, it teases you towards a lot of possibilities. Begining with a world without hope, Alfred smartly teases how he was 'hoping' of someone who just arrived and whos presence felt like not a small deal. One can possibly speculate Superman's come back (as a little glimpse of red cape is noticed in the out of focus area in the shot), or there are chances of it being Supergirl. She bears the same sign of hope and Batman looking at hologram of some Kryptonian looks more of feminine. Additionally, the makers have also confirmed her existence in cinematic universe.
What is more interesting is the fact that the makers broke from usual mainstream of establishing the cinematic universe right from its beginning, rather its evident from the earlier films and  earlier monologues of Bruce and Steppenwolf that a lots of events have taken place before the present timelines. Batman is old, Green Lantern leaving the planet teased and Kryptonian has also falled. Another big reveal maybe black Superman might arrive in next Justice League, if it happens to be Supergirl in the end. Thus, we need to prepare for big things coming soon.
Catch more geeky content and do not forget to subscribe us. You can also follow our regular updates on our Facebook handle and let us know what you think in the comments section below. Till then, Adios Amigos !