Well, the upcoming Avengers Infinity War will make up for the best culmination superhero franchise. While the movie will be bombarded with a lot of Marvel characters, there are a few heroes that audience look upto. One has been the Avengers key member Iron Man.
While a lot has been said by Thanos, there are a lot of speculation about the possibility of Iron Man armours that the World is yet to see ( comic books already have a rich Iron Man armours history ) ! Here is our compilation of possible Iron Man Armours that could feature in Avengers Infinity Wars :
1. Iron Man Uru Armour
The Uru Armour is a special Iron Man Suit which is designed from the bleeding edge suit. What's so special about this suit is that it has the ability to cross other realms and has even reached asgard once.
2. Space Travel Armour
Now given the challenges our heroes will face in Avengers Infinity War, the space travel armour is something Tony will need. Allegedly, the Iron Man space travel armour can manipulate magnetic fields and has powerful repulsor gauntlets to shoot out powerful beams and can even survive the multi-verse phase.
3. Iron Man Model Primer Suit
The model primer suit is one of the more advaned developements from genius billionaire, playboy, philanthropist – Tony Stark. It uses a scalar design which makes use of nano particle technology. The suit is more agilw and can adapt to any situation, take any shape/size according to Tony's will. Also it provides a strong defense against unstable demanding situations.
4. Endo-Sym Armour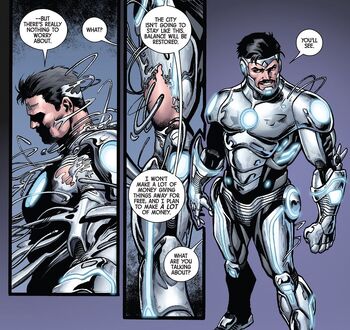 The endo-sym armour is a symbiote version of the Iron man armour. The suit has the advantage of not being made of earthly elements. It can be well utilized by Tony Stark for getting out of multi-verse trouble. The suit inspired by Spiderman's symbiote suit does not, however has the disadvantage of manipulating it's bearer.
5. Bleeding Edge Armour
The Bleeding edge armour can be credited as one of the best creations of Tony Stark. The nano technology used in the armour is built inside Tony's bone marrow. Therefore the sophisticated suit is an extension of Stark's body which responds mentally to his commands !
For more fun filled informative content, find a friend in amazing geek world. For suggestions and feedback you can write us into amazinggeekworld@gmail.com. Show us your support by sharing us with your social circle and keep having fun !