Well ever wonder about Mark Zuckerberg having something to do with a DCEU character ?? Well, even if you don't then we have a crazy fan theory that will completely change the way you perceive the world. Various fans have had their piece of minds online arguing, is the DCEU worthy Lex Luthor anything close to the crazy materialistic billionaire form the Comics. We don't think so. But we do have a fan theory which we think has the ability to shocks you. Actually the facts are too prominent to ignore.
How often do you think about modern billionaire's being the socially acceptable ridiculously successful people who seem to have gotten everything right. And now there is Jesse Eisenberg playing Lex Luthor who looks nothing like the bald well built and ripped character from the comics. DC is often known to have a very dark take on the world which a common person is totally unaware of.
You can know this by the fact that even Superman form the comics is percieved as a dark demi-god in the city of Metropolis. Well Lex Luthor was never an exactly likeable character. Now you would wonder why do we have so many details to be spitted out about all this. We are actually drafting our facts to get you to the point. Isn't Jesse Eisenberg literally the character who played Mark Zuckerberg in "The Social Network".
I think half of our readers have already got the point. This astonishing fan theory will make you think. Just look at the similarities between Mark Zuckerberg and Lex Luthor :
Both of them are genius billionaires who have an entraordinary sense of intellect makign them see things on a larger scale
Both enjoy tags like "baby faced billionare" and "jeans wearing genius"
Lex Corp is the third biggest technology companies in the DCEU, just like Facebook is next only to Google and Apple.
Both the characters are seen as young celebrities with something of their own ( Lex Luthor is 31 in Batman v Superman, as of today he'd be 33, that's Mark Zuckerberg's age right now !! )
Both enjoy a great social lively image.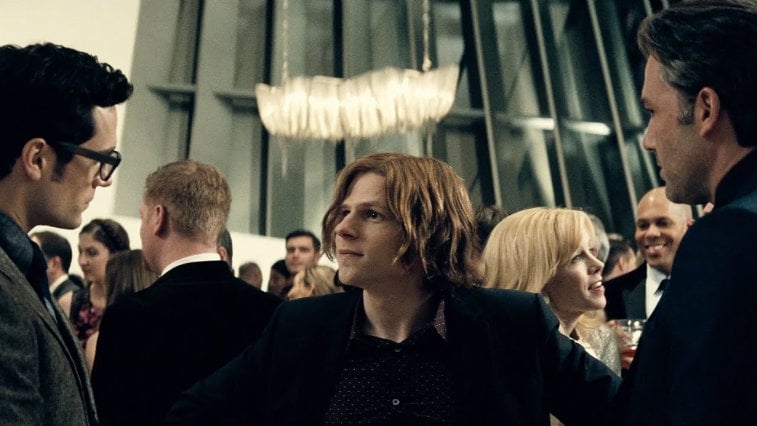 Now look at Lex Luthor's introduction scene in the movie Batman V Superman. We know that Jesse Eisenberg nails his part. But look at his mannerisms. He looks like an awkward genius nerd. He is nothign less then a twisted version of Mark Zuckerberg himself. It is scary but this is how surprising the DC Cinematic Universe is !! But isn't he so good ?? Yes he is !!
Also Read : This Is Why You Should Not Trust Everything You See On Social Media
It looks as f DCEU has cleverly planted a dark fictional version of Mark Zuckerberg in their cinematic Universe as a subtle reminder of young billionaire;s today. AKA : The owner of big technology giants making a lot of money and fame. Now if you mix it all up, this is all pretty scary. Does that mean that Lex Luthor represents pretty much every CEO on our planet as being a dark progressive figure with a psychotic mind.
Well it is almost impossible to ignore. But things are pretty much different in our reality. We have no superheroes, our world is run by billionaires like that ! And we totally accept them with all the honor and grace. Who knows what goes beyong it. It is just a crazy fan theory but it is nothing to be scared of !!
For more amazing peeks into the world on entertainment, technology and comic book movies, keep coming back to amazing geek world. You can also hit the subscribe button on out page and follow us on facebook in the embed window given in the sidebar.