Vijayadashami, also known as Dusshera is celebrated as a festival in India mainly by the Hindus. Dusshera marks the end of 7 days of Navaratri and is known to be a celebration of good over evil. the backstory of course is in the Hindu mythology, Lord Rama successfully killed Raavan ( an asur ) who had held captive his wife entering Lanka. Over the years Vijayadashmi has been a reminder of the power of good over evil in our society. But with changing times, the meaning of Raavan as also changed.
Not just being an old mythological character, he is someone associated with anyone or anything who is evil and has brought bad to the world. In the recent times more so, the evil psyche can be found relevant and is deeply woven into our society. So there is something is our culture that reminds us that there has to be always good over evil. And to make the conversation even more interesting, here is a clip form Shah Rukh Khan starrer Ra.One in which actor Arjun Rampal pops up a few lines which are paradoxical but utter wisdom. Here it is.
Ra.One was a sci-fi film in which Arjun Rampal is a computer game character coming to life and of course, the name is a dig at mythological character Raavana, embodying the symbol of evil. The director is really smart in this scene where Arjun Rampal asks children, why they burn Raavan every year. And the evil character comes to a conclusion " Tum har saal Raavan to issiliye jaalate ho kyuki tum jaante ho wo kabbhi nahee marrta ( you burn Raavan every year on Dusshera for you know he never dies)". As weird as it may sound, the statement is very true in our modern times. There are instances of murders, mass violence and crimes all over the globe every year which means that we are far from living in our perfect society.
And the fact that there are so many criminals, psychopaths and rapists roaming around is a confirmation that there are individuals far worse than Raavan, Ravana himself is only a symbol, a reminder that there is evil. The question we have to ask ourselves is, are we ready to really drive away all the evil like Lord Rama ?? Are there bigger forces that come into play ?? There are many ways in which we will admit that humanity needs to change a great deal to live upto what our culture and religion has taught us. But just like the festival of Vijayadasami, we need to kill any sight of evil that exists within us again and again. And there are forces of balance of the universe that will take care of evil outside of us ( or we hope so ).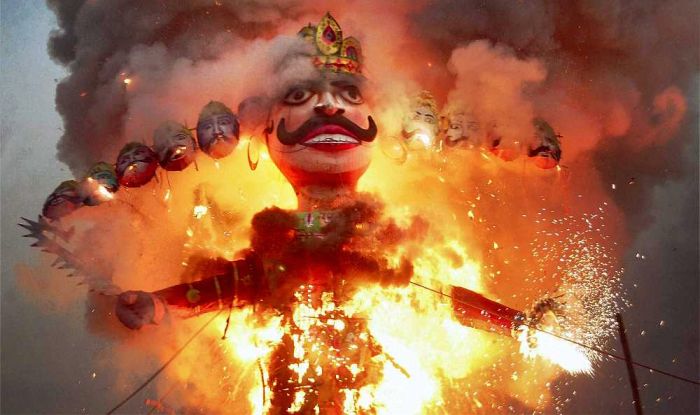 Ending on a positive note, we wish our readers a very Happy Vijaydasami. May the power of goodness shine over evil every single time it returns or peeps out. You can share our article on this occasion with your friends and social circle. Till then we hope you guys have a good time. Let us know what you think in the comments section below !