BMW is already known as a valuable brand which comes up with more than premium cars and now BMW Bike with BMW Motorrad. But it is not very often than we see a technological innovation which redefines the way we use something.
The best thing about this bmw bike is that BMW claims it to be the next big thing for the connected digital world which is most likely to be dominated by technology. It is not a bad thing to be ahead of your time, especially when you have a vision.
Check it out for yourself here
And the good thing is that the bike has everything you expect from a BMW product, performance and class !
The triangular shape of the bike looks futuristic. the design looks like an advanced planning. The Motorcycle tempts to offer an extremely safe riding experience. To say it is totally accident proof. It is designed in a way to act like an extension to the rider which is well connected to environment with excellent grip. What matters here is not so much the looks, but the vision it is built upon. The self balancing bmw bike mechanisms takes care of the dynamics and turn angles.
This surely will carve out a path for the future technology to be used for commutes. Not only does the bike stand for quality, it also seems to provide for the fact that technique can be used to enhance human experience and at the same time Humans can use technologies based on the intelligence of nature.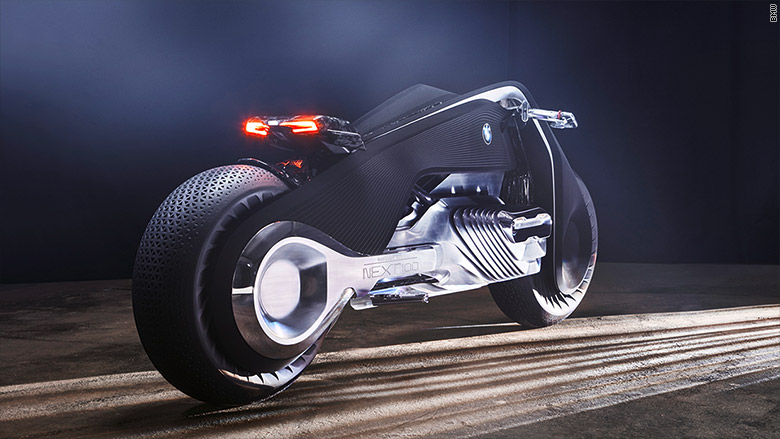 This is one step ahead of the conservative thinking. As this might mean that humans are capable of using things that mimic the nature. Efficiency is a good thing but sustainability and natural innovation can take you leaps ahead in the future of our planet. And the fact that it also looks like a batmobile is a cherry on the top !
We like the other geeks, will look forward to such sustainable technologies which takes our world forward but without compromising on sustainability. We aren't saying it is the ultimate thing, but this is a great changing in the way we view technology !
We hope you appreciate our work, if you do please share our work and let it get to people you know. And keep visiting amazing geek world for more.